Posted by Jay Kapadia on
New Review! – Rocket Math
I'm back this week with another game review and this time I will be looking at the iPad game "Rocket Math".  
As you can guess, this game is a math based game aimed towards children. This game involves the user taking missions and each mission is a different type of math problem.  These missions have different types of problems such as subtraction, multiplication, counting and fractions.
There are a total of 56 different missions and they change every time so you will never see the same problem twice.  Each mission has touchable objects such as stars, clocks and coins. These objects provide interaction between the missions and the user which make the game more enjoyable. There are also three different difficulty levels that can be chosen which make the game for all children, regardless of current knowledge.  
There are over 90 different types of rockets so you aren't always seeing the same thing which is very refreshing on the eyes.  This game is very fun to play and it could be something enjoyable for the kids during the summer! Try the game for yourself and let me know how it goes!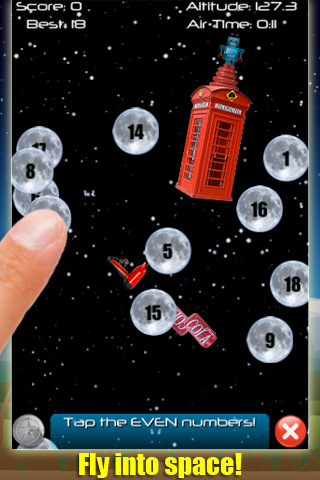 Feel free to respond here or at our facebook @ http://www.facebook.com/kiddology