Posted by Anita on
Labels of Love
"My sippy cup!"
"No! Mine!"
"MINEEEEE!!"
"DADDY!"
"MOMMY!"
Eek. Play dates gone wrong? Well, an easy prevention of this tug o' war is name label. No, not the awful ones hastily made from icky masking tape and permanent markers. I'm talking about those cute, personalized, dishwasher, laundry and microwave-safe labels by Mabel's Labels.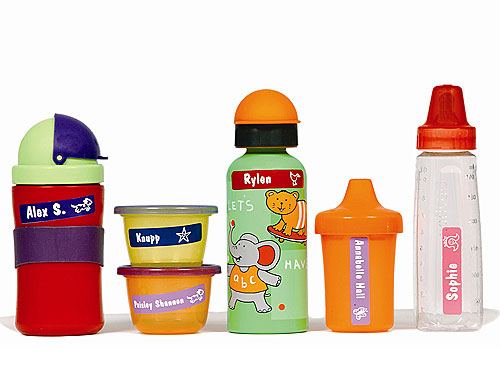 Mabel's Labels is an online mompreneur business specializing in iron-on and stick-on labels that can be customized with names, colors, and icons such as a puppy or soccer ball. With a motto of "Labels for the stuff kids lose," the company's initial target markets are babies and kids: clothing labels, sticky labels, back-to-school labels – you name it. Nowadays, its product line has grown to include labels for grown-ups, such as household labels for those spice jars or electronic gadgets or golf clubs. Who said labels can only be popular with the kids?
If you're a parent tired of losing stuff or a neat freak who needs to have every box and cord in the basement labelled (like me), you'll like Mabel's Labels.
We are more than halfway through our 30 Bloggers in 30 Days! Follow us on Twitter and Facebook to see all the featured bloggers such as Bicultural Mama, Single Dad Laughing, and Nugglemama!